The Saskatchewan Educational Leadership Unit is fortunate to have the support of Companions and Patrons as we strive to fulfill our mission of serving clients in the education and human services sectors provincially, nationally, and internationally.
Companions are individuals who are engaged in the field of educational administration and leadership and who serve as colleagues, mentors and active participants in the work of SELU.  They are individuals who are companions in the work of SELU, and the SELU Team benefits from their research and their connection to the field.
Patrons are individuals who have been chosen to be recognized by the SELU Management Board for their significant and generous contributions to SELU and the field of educational administration, human services, and leadership.  These individuals, as patrons, serve as honourary supporters of SELU.  In this instance, they are recognized and celebrated for their knowledge, experience, and expertise and they serve as trusted advisors of the Unit.
SELU Patrons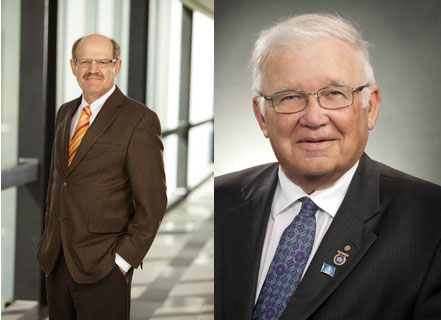 March 15, 2021 - The Saskatchewan Education Leadership Unit (SELU) is pleased to announce the induction of Mr. Kenneth Horsman and Dr. Murray Scharf as Patrons of the Organization in recognition for their advancement of the SELU mission and vision through their many years of service to education in Saskatchewan.
"Mr. Ken Horsman and Dr. Murray Scharf have both had distinguished careers as educational leaders, and their influence has extended throughout the province and beyond," said Dr. Beth Bilson, interim dean of the College of Education. "SELU has been fortunate to benefit from their generous assistance in actualizing the vision and mission of the unit and in providing professional development opportunities to other leaders."
Kenneth Horsman – Posthumous recognition
Mr. Ken Horsman was a well-known educational leader and public servant in the province for many decades. He taught high school mathematics at Campbell Collegiate in Regina for three years and worked in several senior management positions with the Ministry of Education from 1972 to 1987 when he accepted a central office position with Saskatoon Catholic Schools. In 1993, Mr. Horsman was appointed Assistant and then Associate Deputy Minister of Education for the Province of Saskatchewan.
His contributions to education extended nationally and internationally. Mr. Horsman was the Canadian representative on the International Bureau of Education, an arm of UNESCO, and served as the Saskatchewan representative on the Council of Ministers of Education, Canada for several years.
Mr. Horsman holds a Bachelor of Arts in Mathematics, a Bachelor of Education (with distinction) and a Master of Education in Educational Administration from the University of Regina. In addition, he attended USask and Washington State University.
He retired from public service in 2003 and spent ten years on contract with the Office of the Treaty Commissioner where he worked with a group of colleagues to help write and implement "Treaties in the Classroom" for all Saskatchewan Schools. Mr. Horsman also worked with the Treaty Relations Commission of Manitoba as a special advisor and with the Saskatchewan Human Rights Commission to help create the foundational materials for Citizenship Education. He served nine years as the Chair of the Board for the Public Employees' Pension Board for Saskatchewan.
In 2005, Mr. Horsman received the "Commemorative Medal for the Centennial of Saskatchewan" for his significant contributions to the province. He was married to Dr. Helen Horsman for forty-eight years.  They have two children, Timothy (Dr. Ave Dersch), Katherine (Scott King) and four grandchildren.
Mr. Horsman lived with ALS for seven years. He passed away July 3, 2017. His family was humbled by the recognition.
"I am honoured to accept, on behalf of Ken, a SELU Patron designation in recognition of his contributions to education in Saskatchewan," said Dr. Helen Horsman. "Thank you for honouring Ken in this manner. Our whole family appreciates this very much." 
Dr. Murray Scharf
Dr. Murray Scharf has been a fixture in educational leadership in the province for many years. He earned his Bachelor of Arts, Bachelor of Education and Master of Education degrees from the University of Saskatchewan and his Doctorate in Educational Administration from the University of Alberta. Dr. Scharf taught in the Edmonton public school system prior to joining the Department of Educational Administration faculty at the USask College of Education in 1967.

Dr. Scharf served as Head of the Department of Educational Administration for three years (1982-1985) and Dean of the College of Education at the University of Saskatchewan for ten (1986-1996).  In 1985, he initiated the creation of SELU and held the position of director of the unit from 1998 until his retirement from the university in 2006. Dr. Scharf served on the SELU management advisory board (1986-1995, 1998-2006) and spearheaded the unit's development as a leader in practitioner-focused research and training for educational partners, First Nations authorities and human service agencies.

During his academic career, Dr. Scharf has delivered numerous lectures throughout Saskatchewan and elsewhere on issues related to governance, aboriginal education, rural education, restructuring, teacher education and school leadership. In 1996, through his leadership, the first National Congress on Rural Education Canada was held in Saskatoon and continues to draw attendees from throughout the country.

Dr. Scharf contributed to numerous research studies that have had significant impact on policy and practice in Saskatchewan school systems. In 1974, he completed a study on Declining Rural Population and Implications for Rural Education. This became the authoritative statement on the condition of rural schools. A second and more influential contribution came in 1991, with the release of the School Finance and Governance Review (Scharf/Langlois Report) that was commissioned by the Government of Saskatchewan. Though controversial at the time, many of recommendations in the report that were questioned came to fruition in provincial school division restructuring.

Dr. Scharf has received many honours and appointments over the years including the Queen Elizabeth II Diamond Jubilee Medal, University of Saskatchewan Award For Distinction in Extension and Public Service, University of Saskatchewan Alumni Achievement Award, the 125 Medal from the government for work in rural education, Saskatchewan Council for Educational Administration's (SCEA) Administrator of the Decade Award and an honorary life membership in the International Congress on Education for Teaching, an UNESCO affiliated organization.

Dr. Scharf is married to Marjorie Scharf and they have five adult children. He has been an integral part in the life of the Saskatoon community by serving as Board Member for the Saskatoon Council on Aging, President of the Military Institute of Saskatoon, President of the Saskatoon Rotary Club, President of the United Services Institute of Saskatoon, President of the Saskatoon Co-op Association and Chair of the North Saskatchewan Division of the Canadian Corps. of Commissionaires.

"I take particular pleasure in accepting this honour as SELU arose from and has contributed to a climate of educational and organizational co-operation among the various educational institutions and agencies of the province," said Dr. Scharf. "This climate of co-operative effort has been unique to Saskatchewan and has differentially fostered our ability to proffer quality education to all our citizens."
"As Patron, to be identified with this contribution, I find very satisfying and flattering. Further, SELU's focus on rural education matches my personal, professional and academic interests, thus, I feel I can continue to be identified with and engage in these good works," added Dr. Scharf.